Exclusive offer - Low Temperature heating and hot water guide
Join today with an exclusive welcome offer - saving you £30
Being a member of the Chartered Institute of Plumbing and Heating Engineering gives you access to a wide range of benefits including: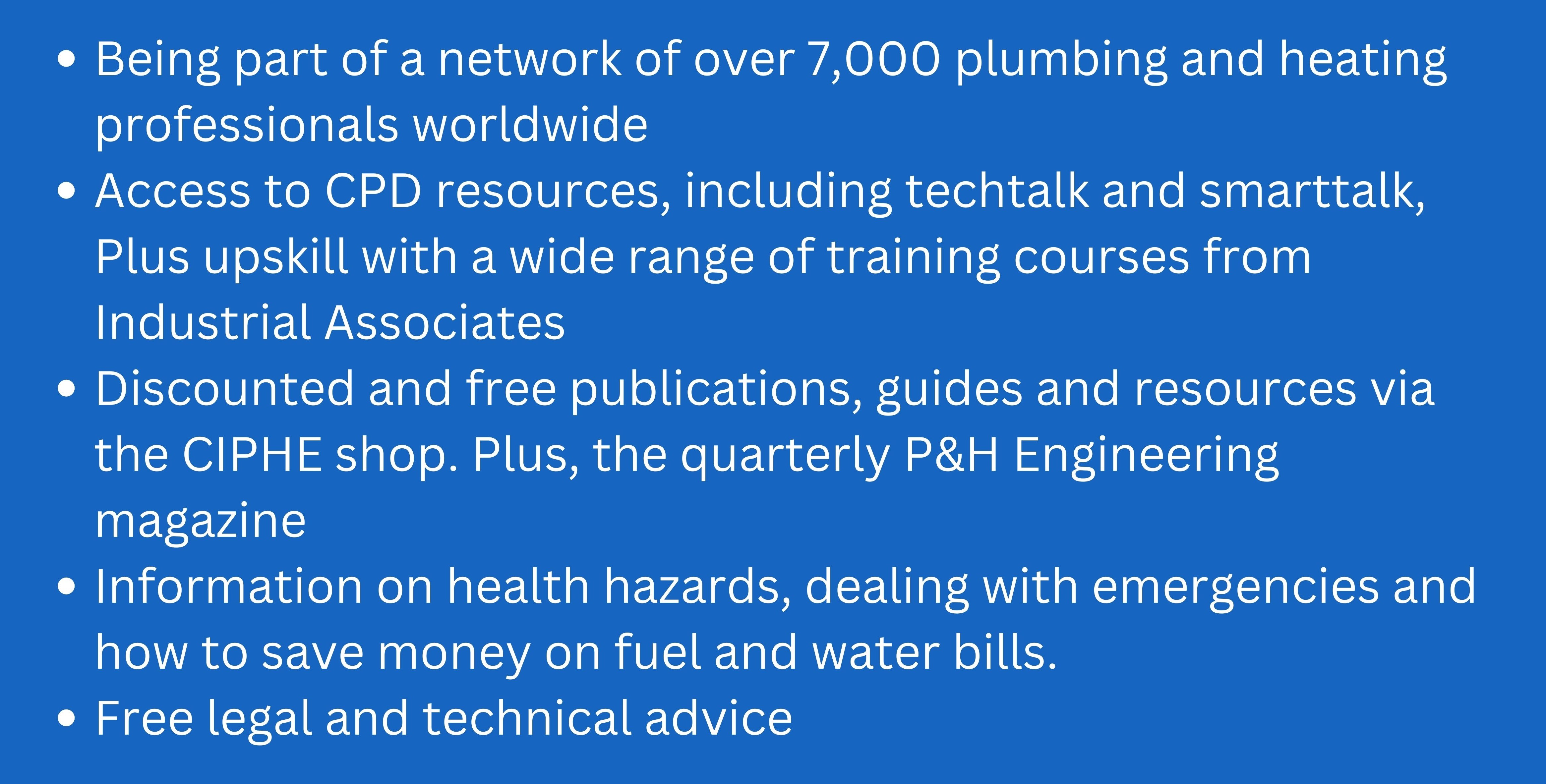 Join Today
Join today with an exclusive offer to save £30 on the Associate, Member or Fellow membership fee.
Click here to join today
Membership with CIPHE gives you access to a wide range of personal and business benefits including:
Use of the CIPHE logo*
Designatory letters after your name*
What's more, join online and you can choose to list your services on our consumer facing Business Directory*
Enrolment on the Register of Plumbers (RP) or Register of Heating Professionals (RHP).*
On the CIPHE website, you will find a wide range of free resources to help increase your knowledge and provide information to your customers, including:
Access to a suite of CPD resources, including techtalk and smarttalk, Plus upskill with a wide range of training courses from Industrial Associates
Discounted and free publications, guides and resources via the CIPHE shop. Plus, the quarterly P&H Engineering magazine
Information on health hazards, dealing with emergencies and how to save money on fuel and water bills.
And, if you want to advance your career even further, start your journey to registration with Engineering Council and WaterSafe.
A world of membership benefits
With our CIPHE member benefits you'll be able to be found by more customers, achieve your training goals and much more.
View full benefits and offers
Technical resources & support
CIPHE members gain support from the Institute's technical team and access to a range of technical resources.
View technical support
Join today and you will also immediately benefit from:
Free helplines for CIPHE members covering technical and legal issues
Discounts on a range of services such as Contractor's Liability Insurance, van leasing and business tools including financial and pensions advice, the Copronet platform and Which? Trusted Traders. Plus access to the CIPHE's private medical scheme
Representation to government on issues affecting you and your industry
And you can even claim tax relief on the full membership fee too!
The CIPHE membership package is tailor made to help you develop your knowledge, expertise and business skill. And the best bit? The cost of your membership can be recovered several times over if you make use of all we have to offer.
View our Benefits and offers section for the full range of services available to members.
*Certain membership categories only.
Join Today
Join today with an exclusive offer to save £30 on the Associate, Member or Fellow membership fee.
Click here to join today