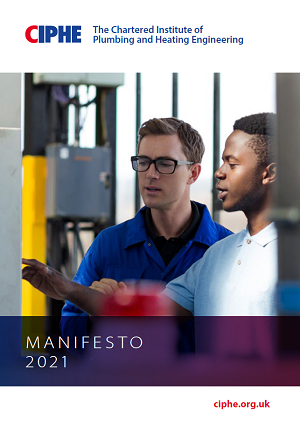 The Chartered Institute of Plumbing and Heating Engineering (CIPHE) has launched its new manifesto, calling on parliament to understand the huge role the plumbing and heating engineering community plays in the success of the United Kingdom.
The document tackles several of issues caused by Covid-19 and reaffirms the critical role the industry plays in both protecting the public health and pioneering the path to net zero. With recommendations to Government across a number of issues such as legionella, scalding and burns, the decline in public toilet facilities, water and fuel poverty, the path to net zero, the environment and water conservation, education, apprenticeships and funding, enforcement of regulations, supply chain shortages and licensing, the 2021 manifesto encompasses the key issues of the day.
Kevin Wellman, CIPHE CEO, said, "As a living document, the CIPHE's manifesto was always designed to move with the times. While the challenges of a global pandemic caused by coronavirus, has shifted governmental priorities significantly, it has also emphasised the importance of the industry as we enter the road to recovery. Now is the time to build upon this newfound status to help shape government policy.
"This much expanded document is part of that aim, seeking to give parliament an insight into how the plumbing and heating industry underpins many key areas of government policy; health, housing, energy, environment and education. As we navigate this period of upheaval and change, the UK is going to need skilled, qualified and competent engineers, in all disciplines, to achieve its domestic and international aims.
"As the Professional Body for the sector, and a registered educational charity dedicated to protecting the public health, the Institute is uniquely placed to give a voice to the industry, while upholding the interest of the general public, on matters that affect the very health and wealth of the nation."
Download the CIPHE 2021 manifesto.