The prestigious HIP Learner of the Year is gearing up for another incredible event! Celebrating its fifteenth year, the competition provides a fantastic platform for apprentice and student plumbers to showcase their skills, gain confidence and win an array of prizes to support them at the very start of their careers.
Level 2 and 3 plumbing students will compete in six regional heats across England and Wales, in January and February. Competitors will be judged on various practical tasks by the competition Head Judge, Jerry Whiteley, Technical Manager from the Chartered Institute of Plumbing and Heating Engineering (CIPHE). Each regional winner will then compete at the Grand Final. Along with the prestige for the student and the college for winning a national competition, there are fantastic prizes up for grabs.
Reflecting on his experience, last year's winner Elliot Julian from Cornwall College,St Austell said, "100% go for it! It's not even about winning, just for taking part you'll learn so much."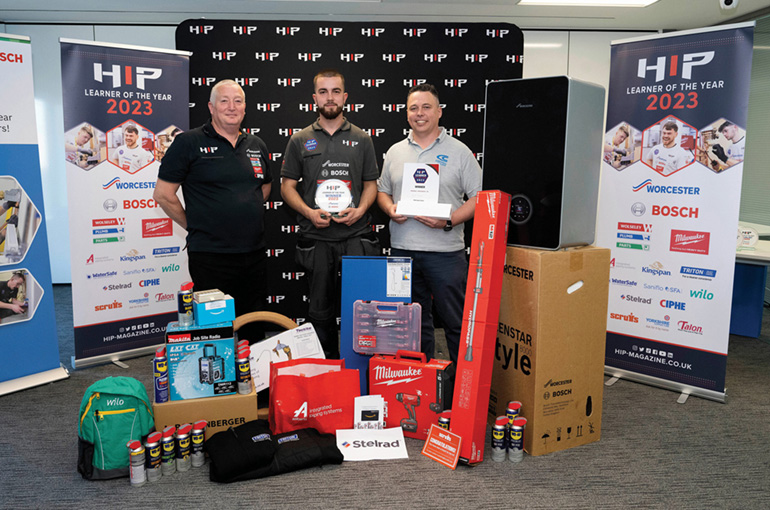 Zoë Tanner, Managing Director at HIP Magazine, shared, "We're thrilled to see HIP Learner of the Year grow year on year, and it's enormously encouraging to see the competition supported by so many big names. The competition is a great way for young installers to build their confidence and take pride in their work, laying the foundation for a bright future in our industry."

Every competitor will receive a certificate for taking part. The prizes have been donated by competition sponsors, including Wolseley Plumb & Parts, Milwaukee, Aalberts IPS, Kingspan, Stelrad, Triton, WaterSafe, Wilo, Talon, The Worshipful Company of Plumbers and CIPHE.

The Meet the Manufacturer series will run alongside the HIP Learner of the Year, offering manufacturers an opportunity to update lecturers on the latest industry and product innovations.

For more information or to enter the competition, head to https://www.hip-magazine.co.uk/learner-of-the-year/