CIPHE welcomes Aguardio as a new Industrial Associate.
Who are Aguardio? Find out more in their guest blog below:

Summary
Since its inception, Aguardio has been focused on one strong mission: to reduce water & energy consumption in the quest of achieving more sustainable future & saving money. Up to 68% of our daily water is used in the bathroom, making it a great place to start. That's way Aguardio was created: our Toilet Leak Sensor detects leaky toilets, that can easily waste between 200-400 litres of perfectly clean water every day as well as our Shower Sensor can reduce hot shower water use up to 30%. Our products take minutes to install offering a revolutionary approach that eliminates the need to invest in big and expensive systems.
Leaky loos: the hidden cost of water waste
A leaking toilet might seem like a minor issue, often overlooked in favour of more significant areas in our homes and buildings that demand attention for potentially larger water-saving impacts. However, the potential of fixing a leaky loo is vastly underestimated. Let's take a moment to break it down and realize just how many thousands of litres go to waste each year instead of seizing this simple and effective opportunity to save both money and water.
Okay, let's start from the basics. First and foremost, why should we be concerned about running toilets? To put it into perspective, a leaky toilet, as reported by www.watersafe.org.uk, can waste anywhere from 200 to 400 litres clean water daily, which is equivalent to taking up to five baths a day! To make matters even more intriguing, leaks of up to 275 litres per day go unnoticed, both unseen and unheard. This seemingly "minor" leak can end up costing around £300 yearly. Worst case scenario being a toilet leaking up to 8000 litres of water a day and costing around £6000 if not fixed! At this moment there is between 15-17% leaking toilets just wasting water away.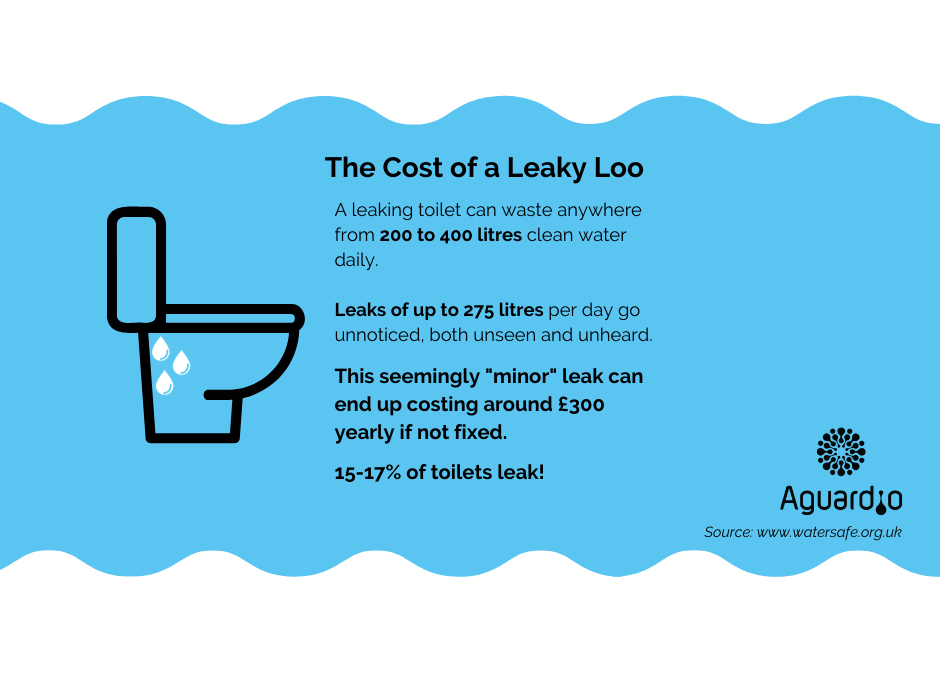 Banishing Leaky Loos One Beep at a Time
Here at Aguardio, we believe in simple, cost effective, smart and easy to install products. Our Toilet Leak Sensor can be placed in minutes as a clamp – on solution, fixed with plastic ties. Leak sensor can both be used on a free-standing toilet as well and wall mounted variant. Every time a leaky toilet is identified, Leak Sensor beeps to alert about it. To pause the beeping, a little button can be pressed on the sensor to give it a 24-hour break and give enough time to alert a Plumbing Engineer.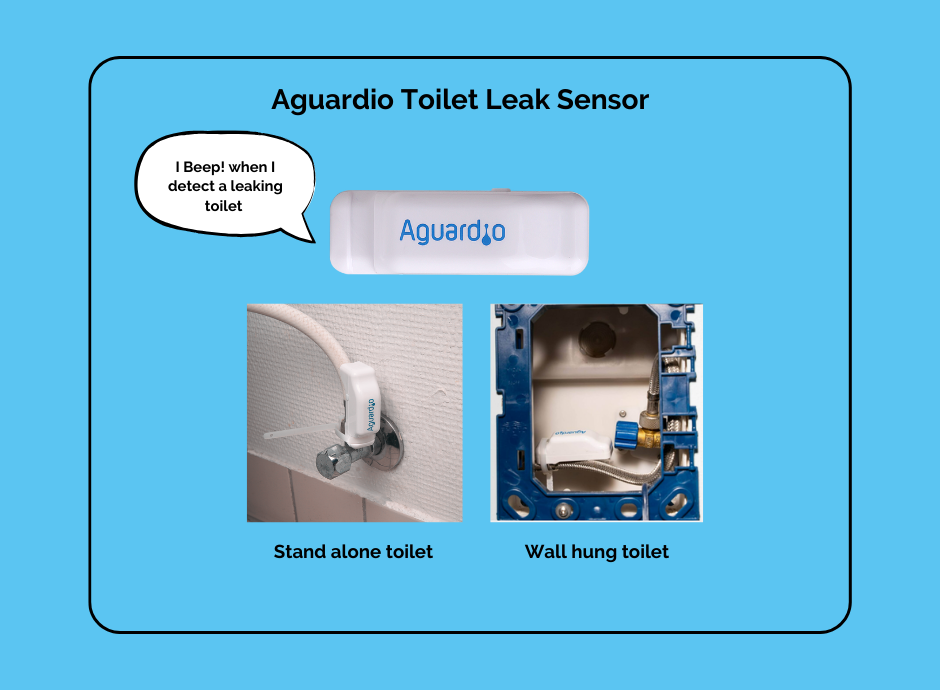 Install, forget about it and make money while at it
Our Toilet Leak Sensor is one of the best and easiest investments one can make to upgrade a bathroom: once fixed it will be working and detecting possible leaks for a decade with a battery life of +10 years, there's no need for ongoing maintenance or special cleaning requirements.
Whether you are an installer trying to assist a customer, or interested in adding additional services & products into your portfolio, offering to install Aguardio Leak Sensor can be a great and easy way to help your customers save water and increase your profit stream. Fixing a leaky loo is often also very cheap – costing around £10 to replace needed parts inside toilet cistern and offering a high profit margin.
Take it to another level with Shower Sensor and bathroom data
So how else Aguardio can help save water in the bathrooms? We are glad you asked – our Shower Sensor makes showers at home up to 30% shorter, saving between 20-36 litres of water per shower. The sensor interacts with the user while displaying shower time to actively encourage users to shorten their time under the shower. Installing Shower sensor does not require any change to the bathroom.
Both Toilet and Shower Sensors can also be installed together with the possibility to gather toilet & bathroom data. Toilet sensor in particular can give insight into, among other parameters, number of toilet flushes and visualize the development of leak situation – this feature is particularly useful when maintaining many toilets and streamlining renovation decisions as well as everyday servicing.
Want to know more?
For further information please visit www.aguardio.com