Technical resources & support
Technical knowledge and expertise at your fingertips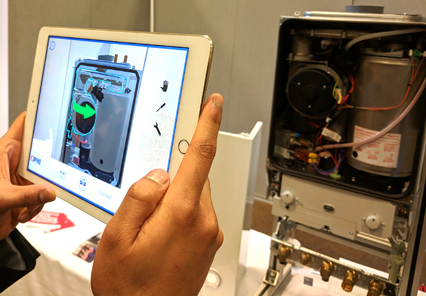 CIPHE members gain support from the Institute's technical team and access to a range of technical resources including:
Technical helpline (9am-5pm weekdays)
Online access to the Plumbing Engineering Services Design Guide
A library of video resources
CPD tools and activities, including Virtual Reality (VR)
Discounts on publications
P&H Engineering magazine.
So find out what technical resources and support the CIPHE has to offer...
All membership levels have access to a suite of technical tools. From Trainee to Fellow you'll find resources aimed at all levels of learning and experience, designed to help expand your knowledge and understanding.
Technical helpline
The CIPHE runs a member-only advice and guidance helpline on the planning, maintenance and installation of plumbing & heating systems. Call on 01708 463117 or email the team.
Email technical support
Plumbing Engineering Services Design Guide
Chapters from the CIPHE's digital version of the Plumbing Engineering Services Design Guide, are available to view and download for free, as an exclusive offer for CIPHE members.
View Design Guide
Video library
The CIPHE's extensive video library features techtalk and smarttalk videos covering a range of topics, from legal issues to systems balancing. See what you could learn...
View video library
Discounts on publications
Members gain discounts on publications sold by the CIPHE. From the Water Regulations Guide, to the Health Aspects of Plumbing, Institute membership can save the pounds.
Visit shop
P&H Engineering
P&H Engineering is the Institute's very own magazine. Published quarterly, the magazine includes industry news, features, technical guidance and CPD activities.
P&H Engineering Magazine
CPD tools and activities
CIPHE membership is built of the cornerstone of Continuing Professional Development. CIPHEed is our dedicated e-learning facility specifically for members of the CIPHE.
Visit website