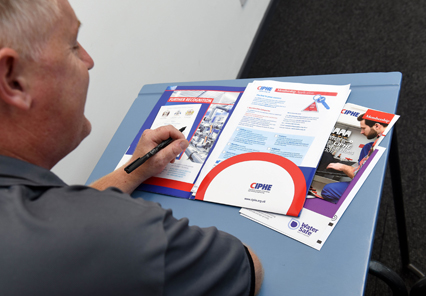 Founded in 1906, the Chartered Institute of Plumbing and Heating Engineering (CIPHE) is the only Professional Body for the UK plumbing and heating industry.
Membership is made up of:
Plumbing and heating engineers
Consultants
Specifiers
Designers
Public health engineers
Lecturers and trainers
Trainees.
Members are from all across the world, with the majority living in the UK, and a further 1,500 resident in Hong Kong.
Become a member
If you are working in the plumbing and heating industry and want to be known as a professional, membership of the Chartered Institute of Plumbing and Heating Engineering (CIPHE) will give you that recognition.
Whether you are currently studying for an accredited qualification, working as an installer, business owner from sole-trader to SME, designer, lecturer, consultant or otherwise associated in any way with the industry, there is a category of membership to suit you.
In addition, eligible members working in either the plumbing or heating sectors can apply to be included on the Register of Plumbers and/or Register of Heating Professionals and benefit from the further recognition this brings.
Belonging to a Chartered Body brings acknowledgement of individual commitment to qualifications and professional development. To make the public and industry aware of this dedication, qualified and competent members are granted designatory letters after their name and are encouraged to use the relevant CIPHE logos. It is these individuals who are promoted as the installers of choice when requiring plumbing or heating services.
The CIPHE logo assures consumers an individual has the required skills and a personal commitment to high standards. In addition, employers can be confident of the integrity of prospective employees.
And if that wasn't enough to tempt you into membership, there are a wide range of exclusive member benefits and services, that you can use every day, which will help you to recover the cost of your membership fee.
Membership application form
Want to join the CIPHE as an individual member or a Registered Plumbing Company (RPCo)? Use our online membership form to apply.
Join now
Industrial Associate (IA) application form
Industrial Associate supporters play a vital role in educating members and supporting the Institutes' aims.
Join as an IA
Approved Training Centre (ATC) application form
Approved Training Centres are recognised by the CIPHE as delivering accredited qualifications and education that will contribute to higher standards across the industry.
Join as an ATC
Membership levels
The CIPHE has a number of membership levels and a pathway to each; including Fellow, Member, Associate, Affiliate, Trainee and Companion.
View membership levels
Professional Standard Inspectors (PSI)
Experienced workers (without formal qualifications) can take an alternative route into membership via a PSI assessment.
Find out about PSIs
Subscriptions and membership fees
Join now - Membership fees until end of December 2024.
View fees