Careers, training and courses
Training to be a plumbing or heating engineer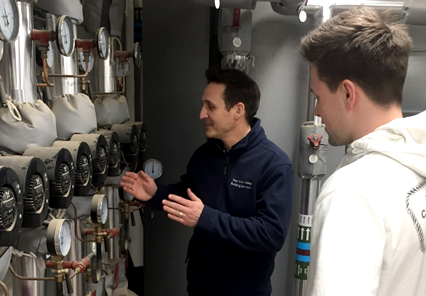 The plumbing and heating industry offers diverse career paths, good wages and the opportunity to run your own business. Many stay on the tools for the whole of their careers, but others move into renewables, design, research and development, consultancy, public health engineering, manufacturing, teaching, or higher management.
Recognised as critical workers, good plumbers are always in demand, whether in people's homes, on building sites, working on infrastructure such as water or gas, or installing and maintaining commercial or industrial systems.
Low temperature heating and hot water qualification
The new qualification will teach professionals to both design and install low temperature heating and hot water systems.
View course
Career pathways
Find out the skills you need to join the plumbing and heating industry and how your career can progress.
View career pathways
Apprenticeships
Considering joining the industry as an apprentice plumber? We'll give you the lowdown on all things apprenticeships.
View apprenticeship options
Colleges and training providers
Want to become an engineer via a college or private training provider? This is what you need to know.
View training providers
Hiring Apprentices
Our online guide for employers on hiring an apprentice covers England, Scotland, Wales and Northern Ireland.
View hiring apprentices
Find an Approved Training Centre
Browse our directory of CIPHE Approved Training Centres (ATC) to find a quality training establishment near you.
View Approved Training Centres
Plumbing Professionals Development Scheme (PPDS)
CIPHE & WCP present a career development programme to boost the growth of early-career talent in the plumbing and heating sector through a Plumbing Professionals Development Scheme (PPDS).
View Plumbing Professionals Development Scheme (PPDS)