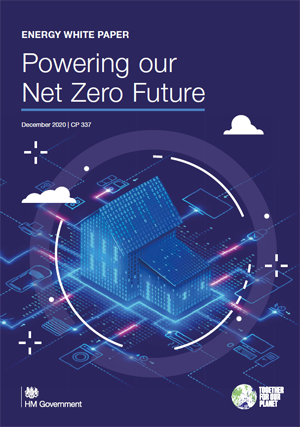 The UK Government's Energy White Paper prepares the ground for the Heat and Buildings Strategy which will set out how policies and other key actions will come together in a coherent plan to decarbonise buildings.
In addition to the policies included in the Ten Point Plan, the Energy White Paper sets out:
Government policy to tighten minimum standards for all rented non-domestic buildings to reach EPC Band B by 2030, where cost effective.
Additional protections to the vulnerable and fuel poor through extending the Energy Company Obligation and expanding the Warm Home Discount scheme – both schemes will now run until 2026.
A new Heat Network Transformation Programme, starting with £122 million of new funding confirmed at Spending Review.
Subject to the results of the development of prototype hydrogen-ready boilers through Hy4Heat, a plan to consult on hydrogen-ready appliances in 2021.
A call for evidence by April 2021 to begin a strategic dialogue between Government, consumers and industry on affordability and fairness.
A plan to consult on changes to the Gas Act, including whether it is appropriate to end gas grid connections to new homes being built from 2025.
Commitments to consulting on regulations to phase out new fossil fuel heating systems in existing off-gas grid buildings and setting out further detail on raising energy efficiency standards and performance in commercial and industrial buildings.
Read the Energy White Paper now.