Building on its successful launch earlier this year, the HIP Female Skills Competition is already making preparations for an even more exciting event in 2024!
HIP, renowned for their 'Learner of the Year' competition, is committed to providing competitions with the goal to build confidence and advocate skills development along with getting the very best people into the industry, regardless of gender.
In February and March 2024, HIP will expand its search from two to three regions across the country, seeking the very best up-and-coming industry professionals. Level 2 and 3 plumbing & heating learners from colleges nationwide will compete in a live practical installation. Each regional winner and runner-up will go on to compete in the grand final, for the chance to win this prestigious award.
Alongside the accolade for both the winning student and college, there are fantastic prizes to be won. Each competitor will receive a certificate for taking part, with prizes generously donated by sponsors including headline sponsor Grohe, along with Milwaukee, Aalberts IPS, Grundfos, Kingspan, Stelrad, Viessmann, WD-40, Wolseley Plumb & Parts, Talon, The Worshipful Company of Plumbers and the Chartered Institute of Plumbing and Heating Engineering (CIPHE).
The competition will be judged by Jerry Whiteley, Technical Manager at the CIPHE.
Reflecting on her experience, last year's winner Tiffany Baker from Group Llandrillo Menai said, "Definitely meeting the other females, because I don't get to meet a lot of female tradespeople".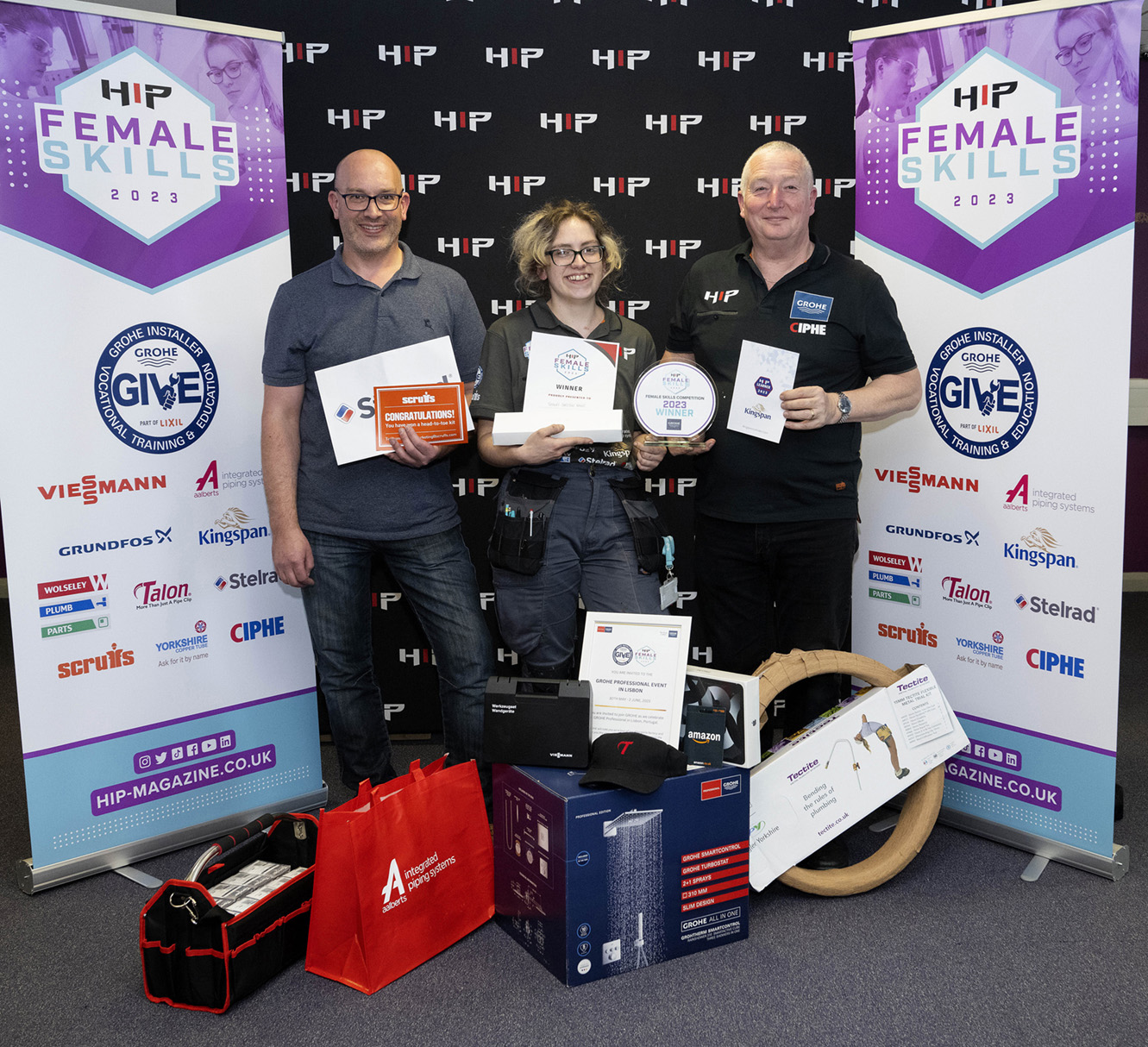 Zoë Tanner, Managing Director at HIP, shared, "We're excited for the next HIP Female Skills Competition! It's been immensely encouraging to see the competition being supported again by so many big names from the industry, and a fantastic way for learners to build their confidence and take pride in their work. Now more than ever is the time to support the next generation of talent and we can't wait to see what the competition brings."
Headline Sponsor, Grohe's Christopher Penney, Leader, GIVE Program, LIXIL EMENA said, "I think it's important to try and bridge the gap between skilled installers. Obviously, we know there's a huge gap in that sort of workforce and the fact that this is an all female competition, we want to set new industry standards with our products and also the people that install them. And the more women we can entice into this industry, I think the better."
Running alongside HIP Female Skills Competition will be the Meet the Manufacturer series, which gives manufacturers the chance to update lecturers on the latest industry and product innovations.
For more information or to enter the competition, visit
https://www.hip-magazine.co.uk/female-skills-competition/