Apprentices and trainers alike waited with baited breath to hear the results of the Chartered Institute of Plumbing & Heating Engineering's (CIPHE) Apprentice Awards 2017 at PHEX Chelsea, on Wednesday 15th November.
With stiff competition in all three categories, the winners were announced as:
Winner in the Heating category: Daniel Martins
Winner in the Plumbing category: James Boyle
Winner in the Vulnerability category: Robbie McNeil
While CIPHE Membership Director, Tim Sainty, announced the winners, National President Geoff Westall was on hand to give out the prizes, which included £500 in prize money, a trophy, a copy of the CIPHE Plumbing Engineering Services Design Guide and gift vouchers from sponsors Ridgid Tools and Screwfix. Speeches on the night were also given by the CIPHE's CEO Kevin Wellman, National President Geoff Westall, Chairman of the CIPHE's Industrial Associates Development Group Paul Massey and Director of International Development Richard Soper.
The judges; Tony Kite, Tracey Richardson and Geoff Westall, were impressed with the high quality of the projects submitted, with apprentices regularly seen going above and beyond in their work.
When it came to the winners themselves, there was high praise indeed from their training providers and employers on their commitment and work ethic.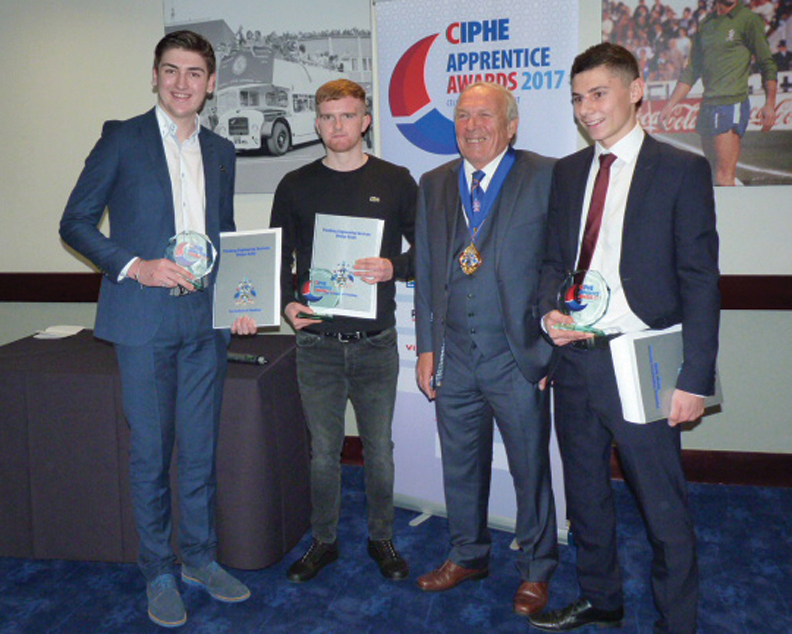 For the Heating category winner, Daniel Martins, this award comes on the back of achieving a bronze medal at WorldSkills 2017 in Abu Dhabi. Daniel's trainer, Eamon Wilson, from EAS Mechanical Limited, pointed out that Daniel has always exceeded expectations, saying his politeness, coupled with his willingness to listen and learn were key qualities that helped him achieve consistently.
Daniel's employer, Pete Curtis of Briggs & Forrester added that Daniel is an exceptional employee. He is already highly respected right across the company, which Pete puts down to the unprecedented level of commitment and determination that Daniel shows. Pete says he's never witnessed such dedication from someone so young in his 20 years of managing apprentices.
Plumbing Category winner, James Boyle received similar praise. James, who attends South Gloucestershire & Stroud College, is employed by M.G. Plumbing in Bristol. His lecturer, Scott Manson, commended James not only on his 100% attendance record, but also on his role model status, saying he always demonstrates a great skills set on all plumbing assessments. In Scott's own words, "James is a real time leader who not only pushes himself but positively brings forward his fellow learners to make sure they understand and helps create a very strong learning environment during lessons."
James' employer, Matthew Shortman, considers him to be a model apprentice and commends him on his attitude and commitment to work.
Winner of the Vulnerability category, Robbie McNeil attends Cardonald Campus and is employed by Lambert Contracts Limited in Paisley. This special category celebrates apprentices who go above and beyond to help vulnerable people – the elderly, those in ill health, the disabled or those with little support – at a time when they are desperately in need.
Robbie decided at an early age to follow in his grandfather's steps and become a plumber, it seems his vocation of choice was a good one. The judges unanimously agreed that Robbie should be awarded this trophy after learning of the efforts he had gone to in order to assist a customer whose heating had broken down whilst they were on dialysis.
Robbie's employers said that he is very eager to learn, that his positivity is a key strength and that great things are expected from him because of the standards he has set. His ability to work with and learn from his tradesmen is exceptional.
Kevin Wellman, Chief Executive Officer of the CIPHE said "Congratulations to all of our three well deserved winners. The level of dedication and commitment shown by these apprentices is outstanding. The professionalism shown by those just starting out in their careers, not only shines a light on all that is good within apprenticeships and training, but also fills us at the CIPHE with great expectations on what lies ahead with the new Trailblazer Apprenticeships."
"I would like to thank the sponsors on a personal level and from everyone at the CIPHE, namely ADEY, AKW, Dudley, Fernox, Heatrae Sadia, Ridgid Tools, Saniflo, Screwfix, Viessmann Warners Group Publications and our hosts PHEX. We also benefitted from support given by industry trade bodies, Bathroom Manufacturers Association (BMA) and the Heating and Hotwater Industry Council (HHIC). Without your contributions we would not be able to celebrate these young people tonight. I would also like to thank the judges Tony Kite, Tracey Richardson and Geoff Westall, without whom this event could not have taken place."