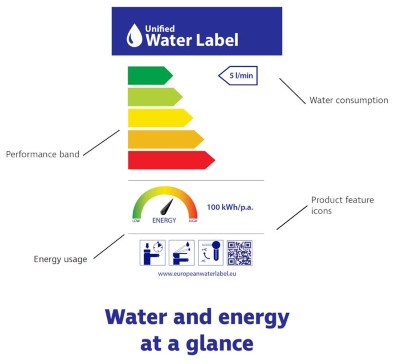 Brexit may well still be contributing uncertainty in the United Kingdom, but one thing is for sure, Europe's bathroom industry has decided to work together to simplify the identification of water and energy efficient products.
The European Water Label Scheme - an Industry-wide, voluntary labelling scheme for water using bathroom products - has had an overhaul, with four existing different labels showing energy and water use, incorporated into one single Unified Water Label. Having been a key contributor in its creation, Yvonne Orgill, CEO of the Bathroom Manufacturers Association, has now been appointed as Chief Executive for the new scheme.
The scheme's primary role is to educate the consumer on water and energy use, so they can make informed purchasing decisions on bathroom products. This new simplified label gives information at a glance on:
Water consumption
Performance band
Energy usage
Product features
This helps installers to offer valuable advice and support and consumers to choose the most efficient and appropriate products.
The scheme was originally developed and introduced in the UK in 2007, but grew in popularity so much that in 2012 it was adopted by CEIR, the European association for taps and showers. In 2014 FECS, the European association for ceramic sanitaryware formally adopted the scheme, and the criteria was enhanced to embrace the distinctions across different nations in the European ceramic sanitaryware industry.
The new label will be applied to a range of products including, baths, WC suites, cisterns, basin taps, shower controls, shower handsets, kitchen taps, supply line flow regulators and independent WC pans.
Additionally, the scheme provides easy access to a database of bathroom products, that when installed and used correctly, will use less water, save energy and save money. You can find this database, plus lots of tips and useful information online at http://www.europeanwaterlabel.eu/