The Seven finalists have been announced for this year's HIP Learner of the Year, who go forward to compete in the Live final at Worcester Bosch's HQ on 19th & 20th April.
For well over a decade, the HIP competition has given young plumbers the opportunity to showcase their skills, celebrating the up-and-coming talent across the UK, and instilling confidence in the next generation of the plumbing industry. Many of the past HIP Learner of the Year competitors have gone on to accomplish further achievements, proving competitions like
these provide stepping stones for those looking to carve a name out for themselves in the industry.
The competition kicked off in January, when Level 2 and 3 plumbing students competed across six regional locations in England and Wales. The high calibre of entries this year meant that competition judges, Jerry Whiteley from CIPHE, and Glenn Scholfield from Aalberts IPS (formerly, Pegler Yorkshire), had a tough job on their hands. After much deliberation, the following six regional winners, plus the highest runner-up, have been announced as this year's HIP Learner of the Year Finalists: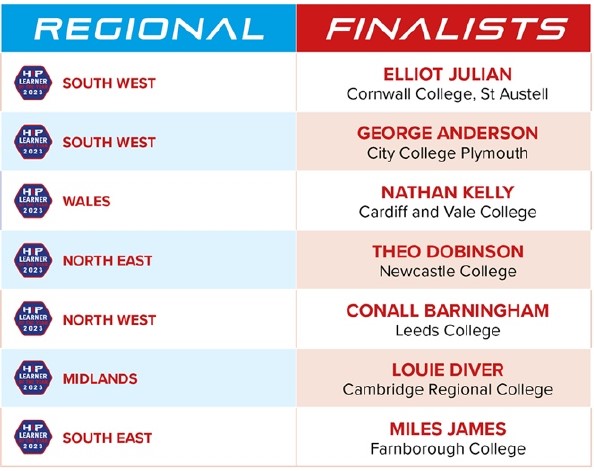 Zoe Tanner, Managing Director at HIP, said: "Congratulations to all seven finalists and to everyone who competed this year across the six regional heats. It is an incredible achievement to be representing your colleges. We're thrilled to see HIP Learner of the Year grow year on year, and it's encouraging to see the competition being supported by so many big names from the industry. It's a fantastic way for young installers to build their confidence and take pride in their hard work. Now more than ever is the time to support the next generation of plumbing and heating talent."
The competition has been sponsored by many big industry names, including Worcester Bosch, Wolseley Plumb Parts, Milwaukee, Aalberts, Kingspan, Triton, Watersafe, Saniflo, Wilo, Stelrad, CIPHE, Scruffs, Yorkshire Copper Tube, Talon and WD-40.
Martyn Bridges, Director of Technical Communication & Product Management at Worcester Bosch, HIP Learner of the Year Platinum sponsor, said: "It is essential that the next generation of plumbing and heating engineers are supported by the industry - helping them navigate through their training as they work towards their qualifications. This is why Worcester Bosch is continuing their support as Platinum Sponsor for HIP Learner of the Year, as it is a great way for the next gen to hone their skills! We look forward to seeing the competition progress."
For more information about the competition, click HERE
Get involved on social media – search for HIP Magazine and use the hashtag #HIPLOY23.