On Monday 26th February 2018, three proud members of the Chartered Institute of Plumbing and Heating Engineering (CIPHE) received Master Plumber Certificates at the Glaziers' Hall in London. Organised by the Livery Companies Skill Council (LCSC) and hosted by the Worshipful Company of Glaziers, certificates on the day were awarded by the Rt Hon Lord Mayor of London, Alderman Charles Bowman.
David Gammage of Gravesend, John Hamilton Murray of Hull and Tyrone Tash of Uxbridge were all worthy recipients of the prestigious award, which is only attained by the crème-de-la-crème of the plumbing & heating industry.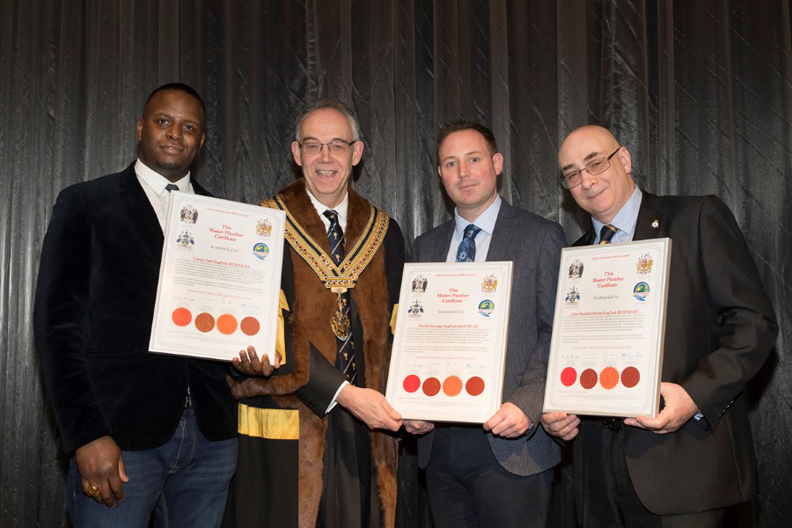 David Gammage EngTech MCIPHE RP RHP is currently employed by C Watkins Plumbing as a maintenance / senior service engineer. Having worked his way up to a senior position and mentored four apprentices, David said, "It's a great honour. It's really nice to have 18 years' worth of hard work and experience recognised in this way."
John Hamilton Murray EngTech MCIPHE RP has 30 years industry experience and is currently a subject matter engineer (water) for Sodexo Facilities. Having first embarked on a military career, John mixes his plumbing skills with a specialism in chemicals and is now actively designing industry specific training on microbiological and corrosive contamination of water systems.
John said, "I am proud to say I am a member of CIPHE and through the Master Plumber Scheme I have gained a greater understanding of what the Institute is achieving. This is clearly seen from the revised and improved technical platforms and knowledge platforms. I have found that I have a greater awareness of my own influence and that of those I share a platform with as a Master Plumber. I am proud to uphold the pledge I have made. I will continue to uphold the high standards expected of me, in both mentoring those committed to a plumbing career and as a holder of the Master Certificate. I loved the awards ceremony and gained a massive amount from it - long may it continue to grow."
Tyrone Tash EngTech MCIPHE RP manages his own business 24-7 TT Plumbing & Heating, specialising in emergency call outs. With 13 years' experience in the industry, Tyrone is currently training an apprentice and really enjoys the challenges and variety of jobs he has to deal with as an emergency engineer. On gaining his Master Plumber Certificate Tyrone said, "It's great to be here today. Looking back, it's been a really long journey. You don't realise how far you have come and what you have achieved until you get to the end. To be a Master Plumber is fantastic."
If you would like more information about the plumbing awards, please contact the Membership Department on 01708 463104 or email membership@ciphe.org.uk