The true value of a professional
We've all seen the newspaper headlines and watched the TV as rogue traders are exposed for their crimes against plumbing and heating systems. While recent research by the Chartered Institute of Plumbing and Heating Engineering (CIPHE) shows that 76% of people are concerned about cowboy operators, the reality is the majority of tradespeople are hardworking professionals, with the rogue element a small minority.
While overall this is positive news, the truth remains that damage caused by the very few can be devastating. Plumbing systems are the very heart of the home, providing safe, clean drinking water, sanitation and drainage, along with heat and hot water. If these systems are not correctly designed, installed or maintained by a professional, associated faults or breakdowns can be deadly. Sadly, there are a wide range of serious health hazards associated with plumbing and heating systems - from scalding to Legionnaires' Disease, carbon monoxide poisoning to gas explosion - it therefore always pays to employ a professional.
Substandard workmanship not only causes massive disruption to your health and home, but it can be very expensive to fix. The CIPHE's research found that it costs on average £1883 to rectify poor quality work. That's a substantial hit to any pocket, especially if you have already paid the rogue trader for works completed. Many homeowners also don't realise they may be liable for fines or even a prison sentence if their plumbing or heating systems break the law. For instance, homeowners with plumbing misconnections that cause significant damage to the environment could face a £50,000 fine or up to 12-months imprisonment.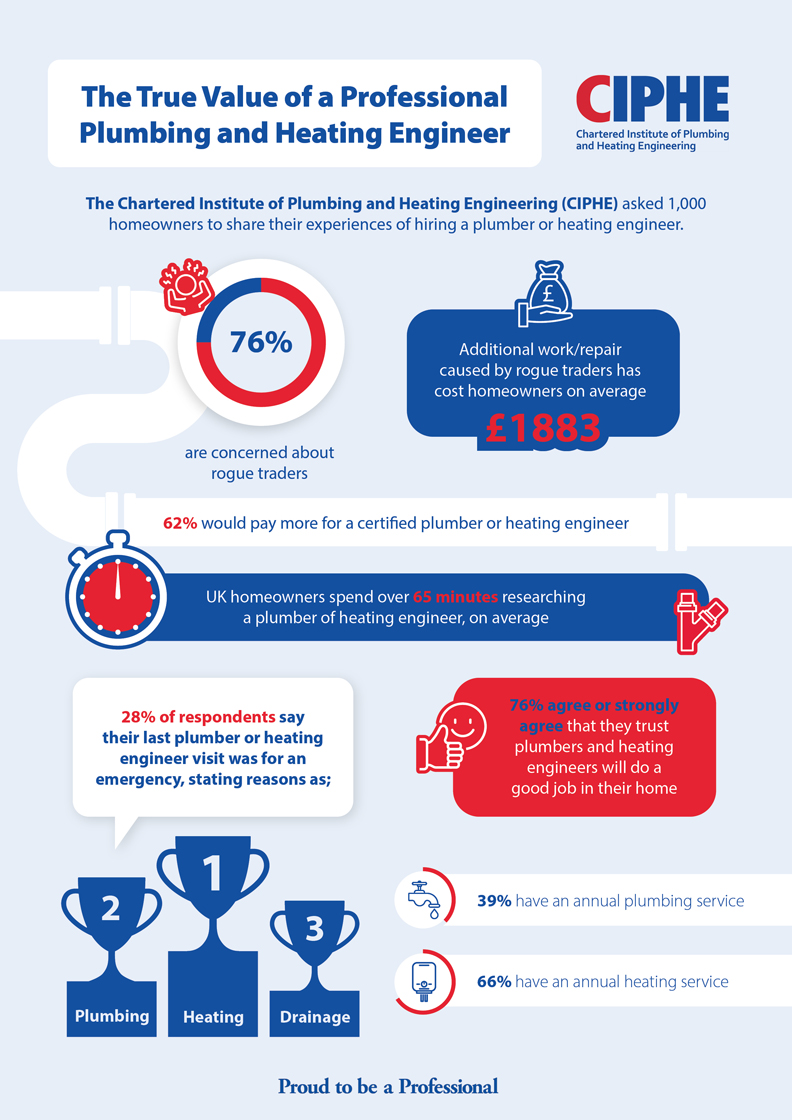 Tim Sainty, Membership Director at the CIPHE commented, "The overwhelming majority of tradespeople represent decent, hardworking businesses and it's fantastic that 76% of homeowners trust the engineers they employ to do a good job. Regular maintenance of systems remains one of the best ways to avoid breakdowns - and the risk of employing a tradesperson in a panic - so we'd urge homeowners to follow the lead of the 66% who have their heating systems serviced annually and the 39% who do the same for their plumbing systems."
"We know from CIPHE members' feedback that they regularly have to carry out work rectifying substandard design, installation and repair jobs, so it's always worth taking extra care to choose a top tradesperson from the start."
CIPHE survey
UK homeowners spend over 65 minutes researching plumbing or heating engineers
76% of people are concerned about cowboy traders
However, 76% also agreed or strongly agreed that they would trust the engineer they employed to do a good job
62% would pay more for a certified plumber or heating engineer
28% said their last engineer visit was for an emergency
39% have an annual plumbing service
66% have an annual heating service.

Top tips for finding a professional tradesperson
So how do you find that professional installer in the first place? The CIPHE has put together the following advice when employing the right tradesperson for the job.
Word-of-mouth recommendations are still the most sought-after way of finding a good tradesperson. Your first step is to ask friends and family whom they use.
If they cannot recommend someone then it's time to look online. The CIPHE's find a professional online tool lists vetted plumbing and heating professionals in your area, who also abide by a Code of Professional Standards for your peace of mind. Alternatively, you can phone or email the CIPHE on 01708 472791 or info@ciphe.org.uk.
A list of Approved Plumbers is also available via the WaterSafe website at https://www.watersafe.org.uk/
You can also visit directory sites such as Which? Trusted Traders, but be aware that not all trade directories vet businesses in the same way, or to the same standards, as the CIPHE.
Make sure the engineer holds the right qualifications or registrations – for example, if they fit gas appliances then they must be Gas Safe registered.
Many people also turn to social media, gaining recommendations from Twitter or community groups on Facebook. Be aware that a tradesperson's friends or family may be recommending them, so do check their credentials out independently before employing them.
You can verify CIPHE members' credentials online via the CIPHE verification tool.
Top tips for gaining quotes
Once you've found plumbing or heating engineers that tick all the boxes, next you'll need to gain quotes.
Unless it's an emergency, you should always obtain three quotes.
Make sure you discuss all your requirements in full.
Ensure the installer has relevant insurance to cover the work being undertaken.
On larger jobs, get a breakdown of costs (this will also help you to compare quotes).
The cheapest quote may not always the best. It's not just labour costs, prices can vary wildly between premium and budget parts so you need to know if you are comparing quotes like-for-like. A good tradesperson needs to allow enough time to do the job properly and will want to use good quality materials, which comply with the relevant Regulations and Standards.
Don't go with an open-ended quote. Agree a cost and make sure any extras are discussed in full.
Remember that if you change your mind part way through the job, you will be likely to incur more costs and extend the project deadline. Again, make sure this is discussed in full with your installer.
Ask for your quote in writing.
Make sure you agree a start date and payment terms etc.
Remember you may have to wait for a good tradesperson – the best will be booked up with clients well in advance.
The CIPHE has a list of professional plumbers and heating installers available on their website – just enter your postcode in their Find a Plumber tool. Alternatively, ring 01708 472791 or email info@ciphe.org.uk from Monday to Friday, 9am – 5pm for a list of members in your area.
Plumbing health hazards
Keep your home and those within it safe, by knowing what plumbing and heating health hazards to look out for.
Find out more
Find an engineer
CIPHE members are competent and skilled professionals. Fill in your postcode to find a plumbing or heating engineer in your area.
Search now
Code of Professional Standards
CIPHE members volunteer to abide by a Code of Professional Standards.
View CIPHE Code